The North Shore Center for Orthopedic Surgery
Dr. Rafael Kakazu
Fellowship Trained, Board Certified Orthopedic Surgeon
Rafael Kakazu, MD is proud to be joining the team at North Shore Center for Orthopedics and Sports Medicine. Dr. Kakazu was born just outside New Orleans to Argentine parents with Japanese roots.
He attended Jesuit High School New Orleans and obtained a Bachelor of Arts in Biological Sciences from the University of Chicago as well as a Master of Science in Biomedical Sciences from Rosalind Franklin University in North Chicago. Dr. Kakazu then returned home to New Orleans to complete his Medical Degree at Tulane University. His path then took him to Cincinnati where he completed a 1-year Orthopaedic Research Fellowship and a 5-year Orthopaedic Surgery residency where he was honored with the Chief Resident of the year as voted by peers. He then completed fellowship training focusing on Sports Medicine at UConn Health in Farmington, CT which focused on advanced techniques in knee and shoulder arthroscopy as well as shoulder reconstruction. Additionally, Dr. Kakazu is passionate about sports coverage and has experience from the high school level (Loveland HS, Loveland, OH), to college (Cincinnati, UConn), to professional teams (FC Cincinnati).
Academically, Dr. Kakazu has authored over 20 peer-reviewed articles and 4 textbook chapters as well as presented his work at several regional and national meetings. He utilizes his passion for orthopaedic surgery to stay updated on the latest developments in the field to provide the highest quality of care for his patients.
In his free time, Dr. Kakazu enjoys cycling, listening to live music, and trying new restaurants.
Education
Undergraduate: University of Chicago, Chicago, IL
Master of Science in Biomedical Sciences: Rosalind Franklin University, North Chicago, IL
Medical: Tulane University, New Orleans, LA
Training
Orthopedic Surgery Residency and Orthopaedic Research Fellowship : Cincinnati
Sports Medicine Fellowship: UConn Health, Farmington, CT
Hospital Affiliations

Make an
Appointment
(978) 774-3400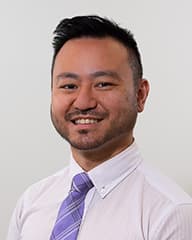 Rafael Kakazu, MD
Dr. Kakazu specializes in the treatment of a variety of orthopedic conditions and performs several orthopedic procedures including:
Sports Medicine
General Orthopedics